Consulting
"Teamwork" Engineer
"Numerous problems were being ignored due to poor communication or lack of respect. Mike provided a comfortable and non-combative forum for each of us to air our opinions, concerns and ideas. No question, 10 out of 10. We would have had to make personnel changes if we didn't solve the problems within our team."
- CEO of Marine Industry Manufacturer
Engineering teamwork involves a system of processes and behaviors that helps the team achieve more. TeamScene™ provides that teamwork system. Our consulting provides tools and facilitation to help that teamwork system operate at its highest level. This consulting will:
Assess current teamwork effectiveness
Design and facilitate a team offsite
Simulate teamwork challenges using proven, effective experiential exercises
Facilitate a roles and responsibilities alignment session
Guide team to complete the BAND Working Relationship Assessment
Utilize the Birkman Method results to help team members accept each other despite any shortcomings
Leadership Coach
"I had an issue with delegation as well as with being a strategic leader rather than a 'doer.' Mike is a great listener and has a calming demeanor. My 'aha moment' in the coaching process was when I verbalized to Mike my concern that if I delegated and got out of the weeds, I would be left with nothing to do. 'Pushing down' responsibilities has been liberating to me. It has helped my people spread their wings and provided me more time to lead."
- Financial Executive, Oil and Gas Company
Mike Goodfriend specializes in one-on-one leadership development. His leadership coaching offerings include:
Breakthrough Coaching Process(pdf) - 6 to 9 month process to help a leader get to the next level or overcome barriers to advancement
Growth Coaching - Regular sounding board and advisory sessions to help the leader improve their everyday leadership competency
Birkman Method Coaching - Interpretation of Birkman Method results as a tool to improve leadership skills by better understanding self and others
A great starting place to improve as a leader is by learning more about the leadership competencies through the Goodfriend Leadership Competency Model(

pdf)
Mike also provides one-on-coaching to help leaders become better leaders of disruption using his proprietary model -- the Goodfriend Competencies for Disruptive Leadership: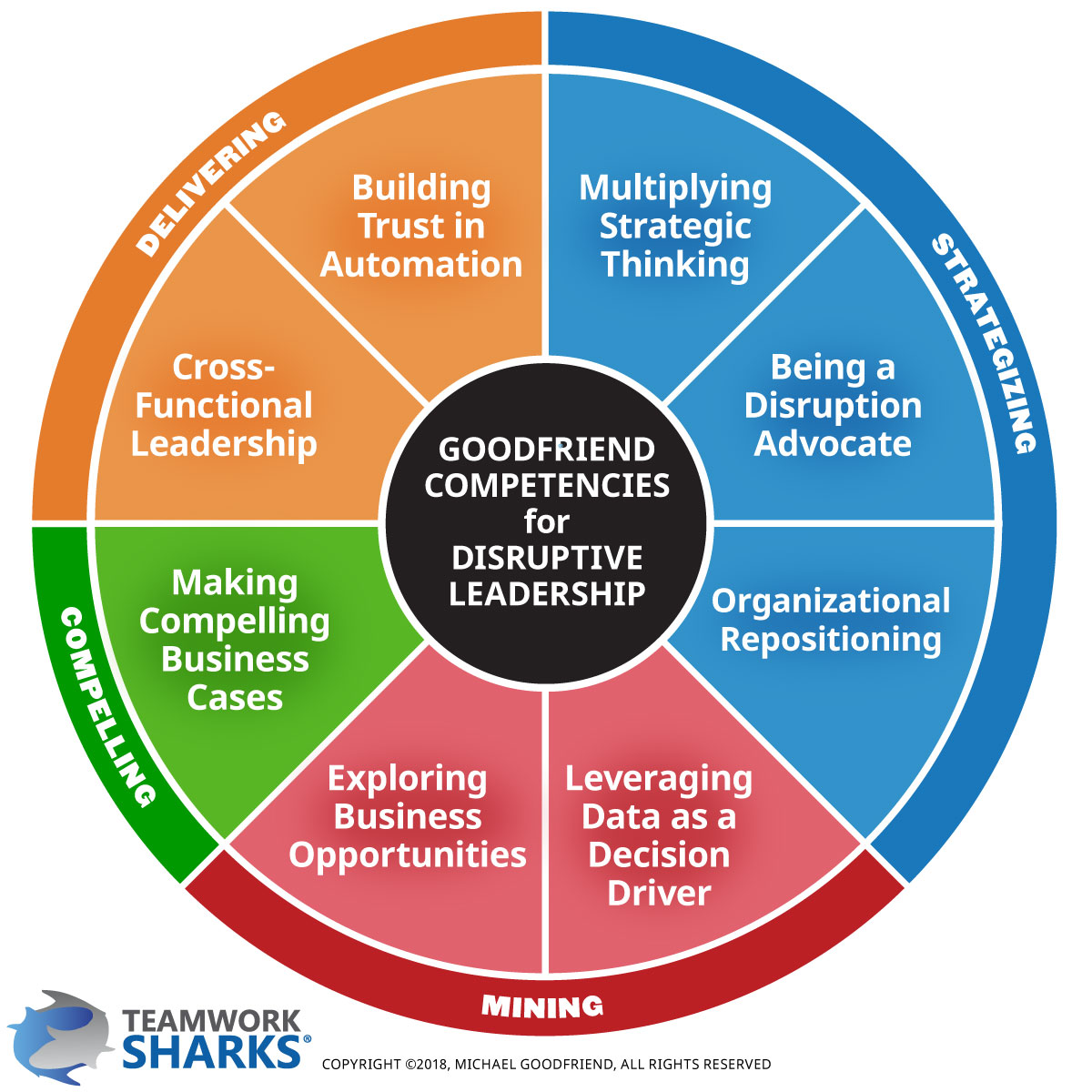 Meeting Facilitator
"I liked the way Mike didn't let anyone off the hook. He was very good at confronting people to get to the root of people's concerns."
- Vice President, Healthcare organization
Consider a facilitator if:
The leader needs to be an active participant, not a facilitator
The group's meetings are usually not productive - getting off track, long-winded discussions, don't end with any meaningful commitments, etc.
The group needs a fresh approach to the meeting design
There are undercurrents and conflict that need to surface during the meeting